Vintage Elastolin Plastic Figures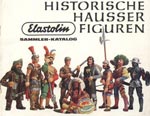 Orignal Elastolin Plastic Figures and Accessories. Elastolin produced plastic figures from the 1950s through the early 1980s when the company went out of business. The molds for the plastic figures were sold to Preiser and have been reissued over the years. The siege equipment and other items were never reissued by Preiser.

We Buy, Sell, and Accept Consignments of Collections and Accumulations of New & Old Toy Soldiers, Historical Miniatures, Historical Reference Books, Militaria, Vintage Toys and Related items. Please call toll free 1-888-642-4869 or email michtoystaff@michtoy.com to get a quote or for our consignment terms and conditions.
Records 1 to 10 for 10 found