Black Powder Epic Battles - Waterloo: Bluchers Prussian Army Starter Set
Manufacture Product Number : WLG 311514004

After Napoleon entered Paris and started the Hundred Days campaign, King William II of Prussia recalled Blücher from his retirement in Silesia and set him the task of facing down the upstart Frenchman. He was placed in command of the Army of the Lower Rhine and quickly marched west to join the Anglo-Dutch allies, hoping to consolidate their forces.
Unfortunately, the Prussian army was hastily assembled and pressed into the field ill-equipped and poorly trained. Over a third of the force was Landwehr (militia), some of which marched barefoot to war. At the Battle of Ligny the Prussian army faced Napoleon directly and was roundly beaten, Blücher himself being trapped injured under his dead horse for hours. The Battle of Waterloo provided a chance at redemption.
Contains:
-Bespoke A5 Softback Black Powder: Epic Battles Rulebook
-Full-colour assembly and painting guide
-Full-colour flag sheet
-8 mounted Brigade commanders
-8 units of Prussian line infantry (80 men per unit)
-5 units of Landwehr infantry (80 men per unit)
-2 units of ranked up Jägers (80 men per unit)
-35 Skirmishing Jägers
-5 bases of Landwehr cavalry
-3 bases of Prussian Dragoons
-3 bases of Prussian Uhlans
-3 bases of Prussian Hussars
-2-pdr foot artillery battery (8 guns)
-1 6-pdr horse artillery battery (3 guns)
-Windmill MDF scenery piece
-6 D6 dice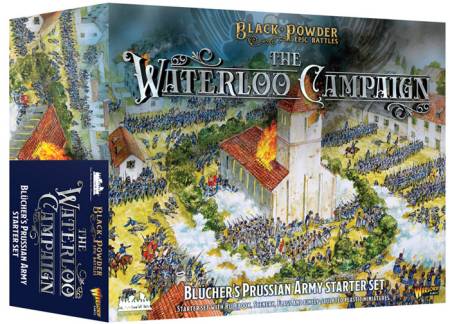 All models are supplied as kits and will need to be assembled and painted.
The picture illustrates how the model should look once completed.
Glue and paint are not included in the kit.

Type
=
Wargaming
Figure Kits, Busts and Accessories
Category =
Wargaming Rules and Systems
Period =
Napoleonic Wars
Scale =
15mm (.6 inches or 1/100 Scale)
Material =
Plastic
Finish =
Unfinished Plastic Figure Kit
Status = Upcoming release
You may pre order this product at an extra discount of 10-20% (depending on the vendor). You will not be charged until the item arrives.
MSRP:
$152.00