American Civil War Paint Set
Manufacture Product Number : WLG 302614001

This custom selected paint set produced by our very own studio team will arm you with the bespoke colours needed to dress for battle both your Union and Confederate forces in either 28mm or Epic Battle Scale. Includes 1 Epic Battles Sprue with 100 soldiers and bases.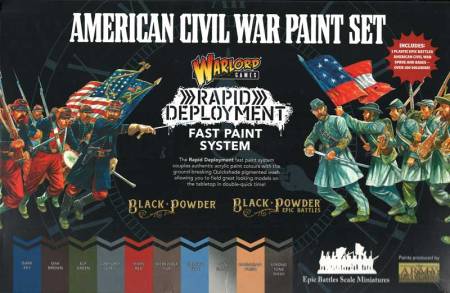 Type
=
Wargaming
Paint, Glues and Finishing Supplies
Category =
Paints
Period =
American Civil War
Material =
Acrylic
Date of Release =
2021-06-26
Status = 2-3 weeks Shipping
This item is not part of our regular inventory but is available to order. Allow 2-3 weeks for item to arrive at MichToy. Because you are so patient you will automatically receive this item at a 20% discount.
MSRP:
$53.00
$42.40
20% off, you save : $10.60