Aztec Warriors
Manufacture Product Number : WAA-RN002

Each box includes four of the main frame and four of the 1/2 frame to build 24 figures.
This hard plastic box set allows you to build up to 30 warriors equipped with bow, atlatl, machuahuitl, spears, slings, and more along with a variety of body and head types to build many of the warrior types. There are also components to build full command.
Each box includes five of the frames to build 30 figures.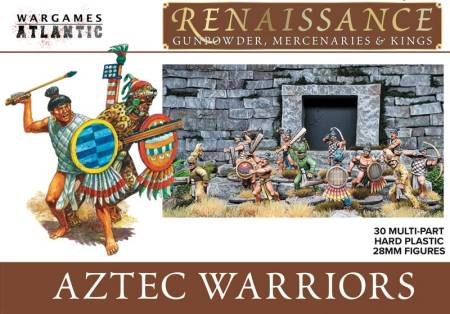 All models are supplied as kits and will need to be assembled and painted.
The picture illustrates how the model should look once completed.
Glue and paint are not included in the kit.

Type
=
Wargaming
Figure Kits, Busts and Accessories
Category =
Wargaming Vehicles and Miniatures
Period =
Aztecs, Incas, Mayans and Conquistadors
Scale =
28mm (1/56 Scale or 1 and 1/8 inches)
Material =
Plastic
Finish =
Unfinished Plastic Figure Kit
Date of Release =
2022-05-09w
Status = New Release
Normally Stocked, may take up to two weeks for delivery if out of stock. We will notify you of any delays
MSRP:
$34.99