Horses
Manufacture Product Number : WAA-GA001

NEIGH!
Designed with minimal tack these models are suitable for a wide range of uses to represent horses throughout history, fantasy…and beyond! Each sprue includes six horse halves, four heads, three tails, and three saddle blankets. Each half is designed to be used with any other opposite-side half giving you nine unique poses. Combined with the four heads you can achieve up to 36 unique figures (not counting the plethora of tail positions!) 18 Horses in Total.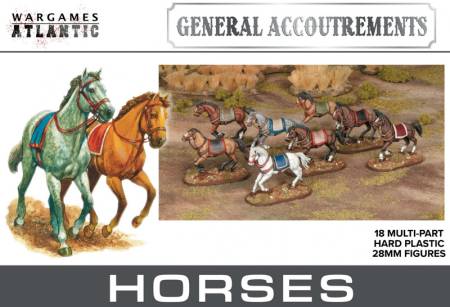 All models are supplied as kits and will need to be assembled and painted.
The picture illustrates how the model should look once completed.
Glue and paint are not included in the kit.

Type
=
Wargaming
Figure Kits, Busts and Accessories
Category =
Wargaming Vehicles and Miniatures
Period =
Good for Various Periods
Scale =
28mm (1/56 Scale or 1 and 1/8 inches)
Material =
Plastic
Finish =
Unfinished Model Kit
Date of Release =
2022-05-09w
Status = New Release
Normally Stocked, may take up to two weeks for delivery if out of stock. We will notify you of any delays
MSRP:
$34.99