Clean Slate ULTRA PS rmvr 3.0
Manufacture Product Number : VMS-TC06-C

Cleans Slate is truly polystyrene friendly acrylic paint remover/stripper like no other. Parts may be in prolonged contact with it, you can soak them for days even. Plastic won't discolour or become brittle. Even CLEAR PARTS are OK to be cleaned with Clean Slate! No other remover can do that! Ultrasonic cleaner compatible. Remover variant 3.0 "ULTRA" can cope with acrylic, enamel and lacquer paints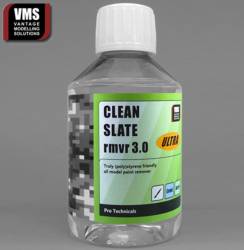 Clean Slate is formulated to deal with acrylics. It evaporates slowly, doesn't produce noxious fumes and has pleasant smell. It is easily rinsed with tap water. The remover can be reused! Simply wait for the paint residue to settle on the bottom of a container to use it again, you can also filter it if in dire need for the remover. Clean Slate is both effective and comfortable to work with while removing paint from all kinds of miniatures!

Type
=
Paint, Glues and Finishing Supplies
Category =
Airbrushes and Accessories
Date of Release =
2021-06-08
Status = Out of Stock
Darn it! This item is currently out of stock. You may order this item now and we will notify you when it's available again.
MSRP:
$12.99