Airbrush Cleaners Pro Acrylic Concentrate 200ml
Manufacture Product Number : VMS-TC01C

Concentrated version of VMS cleaning agent for acrylics. Just mix with tap water to produce up to 1000 ml of cleaning solution using 200ml of concentrate. Save money and time, whenever you run out of cleaners you can simply mix a new batch instead of ordering more cleaners on-line.
Work like a pro, easily prepare strong solution to quickly get rid of stubborn, old paint residue, formulate economical, light variant for regular work and use it while changing colours or when your job is done. Typical mixing ratios are provided for you on the label. Ultrasonic cleaner compatible. Concentrate comes with additional, empty Mix & Store bottle with blank label that can be customised by you.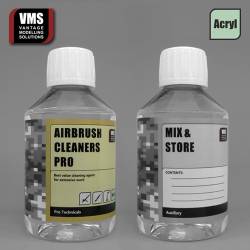 Type
=
Paint, Glues and Finishing Supplies
Category =
Airbrushes and Accessories
Material =
Acrylic
Date of Release =
2017-04-05
Status = Out of Stock
Darn it! This item is currently out of stock. You may order this item now and we will notify you when it's available again.
MSRP:
$20.00