VMS Transpa Fix 6K
Manufacture Product Number : VMS-CM09-TF

Clear parts require special handling, both styrene and CA glue types will damage clear plastic and classic dedicated clear parts adhesives are irreversible making them a hit and miss solution. With VMS Transpa Fix 6K you will have all the time in the world to position the parts and excessive adhesive is easily removed producing a stunning result! IMPORTANT: The recommended glue thinner for Transpa Fix 6K is VMS Universal weathering carrier light type, which will not damage clear parts!
- Combine with: Clear parts
- Recommended techniques: Brush
- Available volumes: 30 ml glass bottle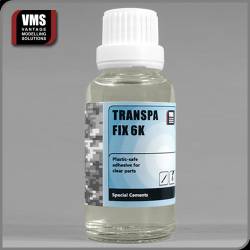 - What's the best technique for precise application of the adhesive?
Use precision brush.
​
- How effective is the adhesive?
​One model requires around 0.1-0.3 ml of adhesive, since the bottle holds 40 ml it will last you forever.
​
- The glue dries too quickly, produces strings and seems thick!
​Add some Universal weathering carrier to slow drying and improve flow. Please use small amounts of the Universal weathering carrier as no glue is good when over-thinned.
​
- How long does it take for the glue to harden?
​Dispensed glue will be dry to touch in less than 1 hour but since it's trapped between plastic parts when applied allow 24-48 h for it to achieve durability.
​
How is this better than my other glues?
​- It's simple, this glue will not affect your clear or painted parts. While the usual modelling glues can cause plastic crazing or fogging Transpa Fix 6K will not.

​- Can I use the adhesive to cement PE to clear parts or acetate cut outs?
​Yes, please remember to degrease PE parts using VMS Styrene Cement standard (fast) type.
​
​- Can I use the adhesive to cement clear parts to painted plastic?
​Yes, in case you painted your model with acrylics there are no constrains. If you painted the model with enamels minimise the glue manipulation and thinner use.
​
​- The glue left some residue on the clear parts and model, how to remove it?
​Please wipe the glue using a brush soaked with Universal weathering carrier light type.
​
​- What agent to use to clean brushes?
​Please use Universal weathering carrier standard or light types.

Type
=
Paint, Glues and Finishing Supplies
Category =
Glues
Date of Release =
2021-01-26
Status = Available
This item is Normally Stocked but may take up to two weeks for delivery if not in stock. We will notify you of any delays
MSRP:
$9.49