VMS Glue-Remove Super Glue Debonder 30ml
Manufacture Product Number : VMS-AX12-D

How to use the debonder
Apply debonder over CA (super glue) residue and allow 5-10 minutes for the reaction to happen. Remove the dissolved residue with a scrubber brush and wipe the area clean with a cloth, cotton bud or paper towel. If there is some residue left apply more debonder and repeat the procedure. When you are done use hair dryer to evaporate the debonder. Finally rinse your model with water and dish washing liquid prior priming and painting.
30 ml glass bottle with brush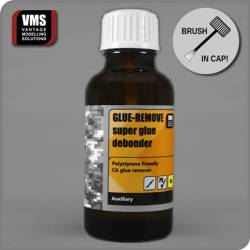 Type
=
Paint, Glues and Finishing Supplies
Category =
Glues
Date of Release =
2023-04-06
Status = Out of Stock
Darn it! This item is currently out of stock. You may order this item now and we will notify you when it's available again.
MSRP:
$11.00
11.00