French Napoleonic Dragoons 1807 - 1812
Manufacture Product Number : VIC-VX0022

The French Dragoons are a truly dynamic set which convey the ferocity of cavalry going into action, waving or leveling their sabres for the charge. These Dragoons have been done in the pre-Bardin regulation uniform which has the long tailed coat. This was supposed to have been replaced by the short tailed jacket in 1812 but many continued to wear the long tails well into 1813. These miniatures can easily be used for the invasion of Russia in 1812 and the battle of Leipzig in 1813. Dragoon regiments had Elite companies which were distinguished by fringed epaulettes and quite often bearskin headdress.
Whats in the box?
12 x Figures (including an officer, musician and sapper)
3 x Main Frame
1 x Command Frame
Multiple head variations (giving the option between line or Elite companies)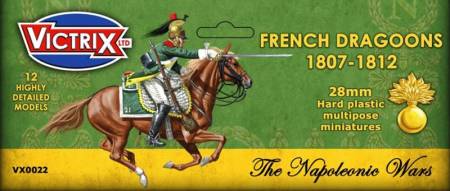 All models are supplied as kits and will need to be assembled and painted.
The picture illustrates how the model should look once completed.
Glue and paint are not included in the kit.

Type
=
Wargaming
Figure Kits, Busts and Accessories
Category =
Wargaming Vehicles and Miniatures
Period =
Napoleonic Wars
Scale =
28mm (1/56 Scale or 1 and 1/8 inches)
Material =
Plastic
Finish =
Unfinished Plastic Figure Kit
Date of Release =
2022-10-09
Status = 2-3 weeks Shipping
This item is not part of our regular inventory but is available to order. Allow 2-3 weeks for item to arrive at MichToy. Because you are so patient you will automatically receive this item at a 20% discount.
MSRP:
$38.00
30.40
20% off, you save : $7.60