Napoleonic Infantry 1806-1815
Manufacture Product Number : VIC-VX0014

Each box contains 56 figures. 48 infantry, 2 officers, 2 drummers, 2 standard bearers and 2 lovely mounted colonels. The infantry can all be in marching poses but we do have some arms to enable you to make some figures, firing, loading and advancing with levelled musket or at porte. Most of the figures are easy to assemble so you can get your units built quickly, however we have added a few extras to add some individuality and character to your miniatures so they don't look like production line robots!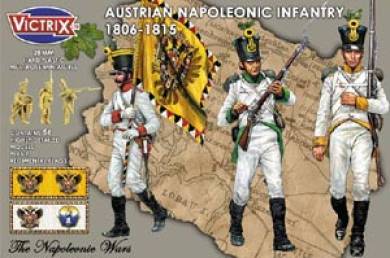 Type
=
Figure Kits, Busts and Accessories
Wargaming
Category =
Wargaming Vehicles and Miniatures
Period =
Napoleonic Wars
Scale =
28mm (1/56 Scale or 1 and 1/8 inches)
Material =
Plastic
Finish =
Unfinished Model Kit
Date of Release =
2011-10-06vicz
Status = 2-3 weeks Shipping
This item is not part of our regular inventory but is available to order. Allow 2-3 weeks for item to arrive at MichToy. Because you are so patient you will automatically receive this item at a 20% discount.
MSRP:
$42.00
$33.60
20% off, you save : $8.40