British Napoleonic Foot Artillery
Manufacture Product Number : VIC-VX0010

The set contains:
3 x Guns with options of short 6 pdr, long 6 pdr, 9 pdr and 5.5 inch howitzer barrels
3 x Limbers.
15 crew, featuring:
Multiple arm options
Head variants enabling you to field your crew wearing Stovepipe shako for the Peninsular War or Belgic shako for Waterloo
Officer head and coat tail variants suitable for either the Peninsular or Waterloo
Also included are the Artillery rules for 'The March of Eagles'. Written by Barry Hilton.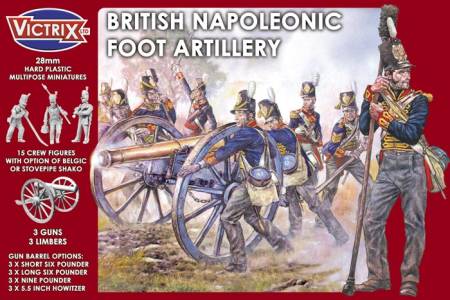 Type
=
Figure Kits, Busts and Accessories
Wargaming
Category =
Wargaming Vehicles and Miniatures
Period =
Napoleonic Wars
Scale =
28mm (1/56 Scale or 1 and 1/8 inches)
Material =
Plastic
Finish =
Unfinished Model Kit
Date of Release =
2010-05-31
Status = 2-3 weeks Shipping
This item is not part of our regular inventory but is available to order. Allow 2-3 weeks for item to arrive at MichToy. Because you are so patient you will automatically receive this item at a 20% discount.
MSRP:
$42.00
$33.60
20% off, you save : $8.40