Napoleons Old Guard Grenadiers
Manufacture Product Number : VIC-VX0009

The set contains 60 figures and fast play rules, also included are 8 regimental flags, representing flags of the 1811 and 1812 issue. Positions included in the box are:
4 officers
4 standard bearers
4 drummers
16 firing line, firing, priming and loading
16 march attack with arms fully attached
16 either march attack or advancing at porte/charge
Of course any arm can be used on any figure, giving you the option to make many more positions than listed.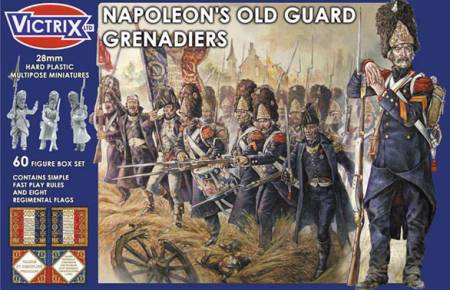 Type
=
Figure Kits, Busts and Accessories
Wargaming
Category =
Wargaming Vehicles and Miniatures
Period =
Napoleonic Wars
Scale =
28mm (1/56 Scale or 1 and 1/8 inches)
Material =
Plastic
Finish =
Unpainted
Date of Release =
2010-03-29
Status = 2-3 weeks Shipping
This item is not part of our regular inventory but is available to order. Allow 2-3 weeks for item to arrive at MichToy. Because you are so patient you will automatically receive this item at a 20% discount.
MSRP:
$42.00
$33.60
20% off, you save : $8.40