French Napoleonic Infantry 1804-07
Manufacture Product Number : VIC-VX0008

60 figures in marching, advancing, and firing line poses with separate heads, full of Gallic character, wearing bicornes. Ideal for the early French Napoleonic campaigns fought in Italy, Austria, and Poland.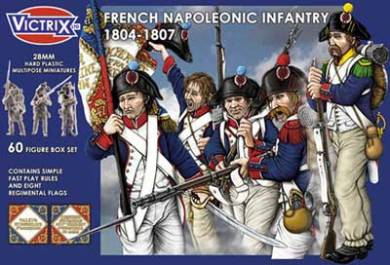 Type
=
Figure Kits, Busts and Accessories
Wargaming
Category =
Wargaming Vehicles and Miniatures
Period =
Napoleonic Wars
Scale =
28mm (1/56 Scale or 1 and 1/8 inches)
Material =
Plastic
Finish =
Unpainted
Date of Release =
2010-01-01
Status = 2-3 weeks Shipping
This item is not part of our regular inventory but is available to order. Allow 2-3 weeks for item to arrive at MichToy. Because you are so patient you will automatically receive this item at a 20% discount.
MSRP:
$42.00
$33.60
20% off, you save : $8.40