Viking Shieldwall
Manufacture Product Number : VAV-R28-V39

This set contain 8 unpainted viking warriors for SAGA and other wargames.
A large base is not included in set. Only individual bases for each warrior.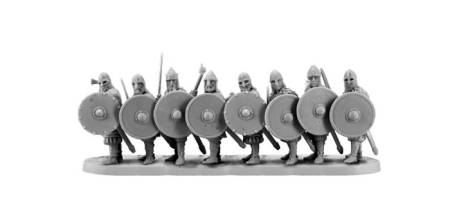 Type
=
Figure Kits, Busts and Accessories
Wargaming
Category =
Wargaming Vehicles and Miniatures
Period =
Dark Ages (Early Middle Ages 400-1000 A.D.)
Scale =
28mm (1/56 Scale or 1 and 1/8 inches)
Material =
Resin Plastic
Finish =
Unfinished Resin Figure Kit
Date of Release =
2019-08-28vz
Status = Out of Stock
Darn it! This item is currently out of stock. You may order this item now and we will notify you when it's available again.
MSRP:
$32.99