WWI French FT-17
Manufacture Product Number : TWX-10015

This kit comes with all turret options and the Type 79 KoGata weapon variants.
The Renault FT tank was one of the most innovative and influential armored fighting vehicles of all time. Being the first tank produced with a rotating turret, it forever changed the way tanks are designed. Built toward the end of World War I, the FT saw action with French and U.S. forces. After the war the FT was exported to several European countries and it served in many interwar conflicts such as the Russian, Chinese and Spanish Civil Wars.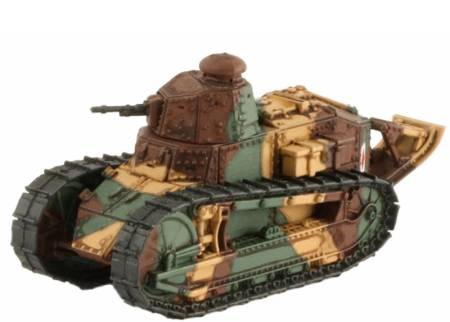 All models are supplied as kits and will need to be assembled and painted.
The picture illustrates how the model should look once completed.
Glue and paint are not included in the kit.

Type
=
Wargaming
Models
Category =
Wargaming Vehicles and Miniatures
Period =
Good for Various Periods
Scale =
28mm (1/56 Scale or 1 and 1/8 inches)
Material =
Resin Plastic
Finish =
Unfinished Model Kit
Date of Release =
2022-04-19t
Status = Out of Stock
Darn it! This item is currently out of stock. You may order this item now and we will notify you when it's available again.
MSRP:
$34.99
34.99