PLZ-83A SP Gun
Manufacture Product Number : TPM-5536

The Type 83 is a 152 mm self-propelled howitzer used by the People's Liberation Army of China. Not long after entering service it was determined to be obsolescent and China started to develop new systems, like the PLZ-45 (mainly for international market) and the real Type 83's replacement, the PLZ-05. Kit has well molded exterior features, 1-piece lower hull and multi-piece upper hull, separate turret with interior and 12.7mm anti-aircraft machine gun, separate hatches, drivers interior with seat, well represented suspension (multipart sprockets and idlers, road wheels and vinyl track lengths), separate on-vehicle equipment (stowage bins, jerry cans and more), filigree handholds, 2-piece injection molded 152mm howitzer, braided copper wire tow cable and photo-etch engine deck grilles. Decals and 5- view color painting guide for a single tank.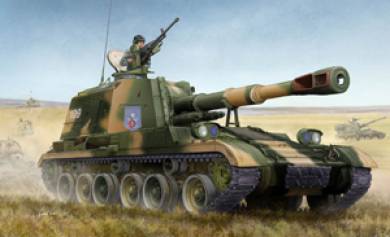 Type
=
Models
Period =
Modern
Scale =
1/35 Scale
Material =
Plastic
Finish =
Unfinished Model Kit
Date of Release =
2015-05-01
Status = 1-2 weeks Shipping
This item is not part of our regular inventory. Allow 1-2 weeks for item to arrive at MichToy. Because you are so patient you will automatically receive this item at a 20% discount.
MSRP:
$42.99
$34.39

20% off, you save : $8.60