Soviet Sukhoi Su-9U Maiden
Manufacture Product Number : TPM-2897

The Sukhoi Su-9 (Fishpot) was a single-engine, all-weather, missile-armed interceptor aircraft developed by the Soviet Union. Two-seat trainer version, designated Su-9U, was also produced in limited numbers, it received the NATO reporting name 'Maiden.' Kit has engraved panel lines, detailed tandem cockpit, engine with turbine faces, optional canopy, detailed wheel wells and optional undercarriage, external stores (x2) drop tanks and (x4) air-to-air missiles. Decals and 4-view color painting reference for (2) aircraft -stencil data and markings, weapons data and markings, instrument panel and consoles.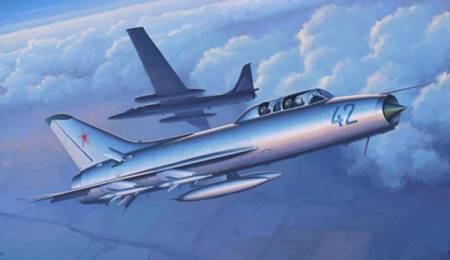 Type
=
Models
Period =
Modern
Scale =
1/48 Scale
Material =
Plastic
Finish =
Unfinished Model Kit
Date of Release =
2016-04-01
Status = 1-2 weeks Shipping
This item is not part of our regular inventory. Allow 1-2 weeks for item to arrive at MichToy. Because you are so patient you will automatically receive this item at a 20% discount.
MSRP:
$58.99
$47.19

20% off, you save : $11.80