EA-3B SkyWarrior Strategic Bomber
Manufacture Product Number : TPM-2871

The Douglas A-3 Skywarrior was designed as a strategic bomber for the United States Navy and was among the longest serving carrier-based aircraft in history. It entered service in the mid-1950s and was retired in 1991. The EA-3B variant was modified for electronic intelligence against the Warsaw Pact. Kit features raised and engraved panel lines, well-appointed 3-seat cockpit with clear instrument panel, undercarriage with rubber tires and detailed wheel wells, weapons bay interior, radar package, separately molded control surfaces, optional position slats and flaps, choice of extended or folded wings and vertical tail, optional speed brakes with interior detail, refueling probe, detailed engines, single-piece canopy and extensive photo-etch parts. Decals and color painting guide for (2) US Navy: VAH-13 'Bats' USS Kitty Hawk, A-3D-2, 611 NH(BuNo.142401) and VAH-10 'Vikings' A-3D-2, 4 GQ(BuNo.142406) - includes stencil data and instrument panels.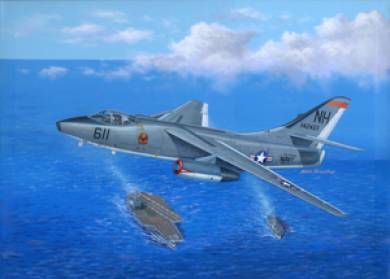 Type
=
Models
Period =
Modern
Scale =
1/48 Scale
Material =
Plastic
Finish =
Unfinished Model Kit
Date of Release =
2015-05-01
Status = 1-2 weeks Shipping
This item is not part of our regular inventory. Allow 1-2 weeks for item to arrive at MichToy. Because you are so patient you will automatically receive this item at a 20% discount.
MSRP:
$99.99
$79.99

20% off, you save : $20.00