Messerschmitt Bf 109K-4
Manufacture Product Number : TPM-2299

Due to the Messerschmitt Bf 109's versatility and time in service with both the Luftwaffe and other foreign air forces, numerous variants were produced over the eight years of service with the Luftwaffe and even more were produced by its foreign users. K-4 only serial production version without pressurized cockpit, powered by a DB 605DM (early pdn) or DB/DC engine. Kit features engraved panel lines, highly detailed fully equipped cockpit with clear instrument panel, segmented canopy, full engine detail, detailed boxed-in-wheel wells with optional extended or retracted undercarriage, rubber tires, individual propeller blades, cowl mounted and wing mounted machine guns, centerline drop tank and photo etch (interior, landing gear, canopy, drop tank and more). Decals and color painting guide for (3) aircraft: Unknown Unit; Stab, III/JG52 1945 and Wr.Nr.330176, II/JG77 - includes weapon markings, stencil data and instrument panel.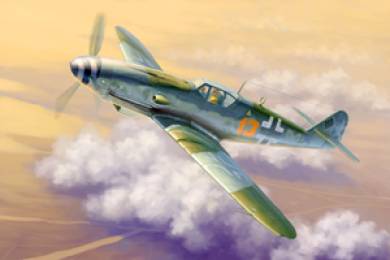 Type
=
Models
Period =
World War 2
Scale =
1/32 Scale (54mm or 2 1/4 inches)
Material =
Plastic
Finish =
Unfinished Model Kit
Date of Release =
2015-05-01
Status = 1-2 weeks Shipping
This item is not part of our regular inventory. Allow 1-2 weeks for item to arrive at MichToy. Because you are so patient you will automatically receive this item at a 20% discount.
MSRP:
$55.99
$44.79

20% off, you save : $11.20