Chinese J-10B Fighter
Manufacture Product Number : TPM-1651

The Chengdu-built, all-weather, multi-role combat aircraft, upgraded 'Super-10' variant with diverterless supersonic inlet and nose-mounted infra-red search and track sensor. Kit has engraved panel lines, detailed cockpit and ejection seat, 2-piece intake trunking and detailed engine, refueling probe, detailed wheel wells and undercarriage (with weighted tires), separate control surfaces (with optional position leading edge flaps), choice of exhaust nozzles, optional canopy, photoetch (seatbelts and seat fittings) plus extensive external stores: drop tanks (x2), bombs (x4), missiles (x2ea) (PL-8,10,11,12,13). Decals and 4-view color painting reference for a single aircraft - includes stencil data and weapons markings, instrument panel and cockpit displays.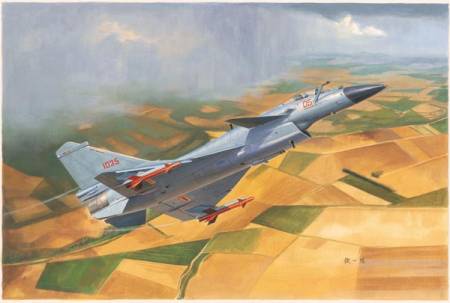 Type
=
Models
Period =
Modern
Scale =
1/72 Scale (22mm or 1 inch)
Material =
Plastic
Finish =
Unfinished Model Kit
Date of Release =
2016-04-01
Status = 1-2 weeks Shipping
This item is not part of our regular inventory. Allow 1-2 weeks for item to arrive at MichToy. Because you are so patient you will automatically receive this item at a 20% discount.
MSRP:
$34.99
$27.99

20% off, you save : $7.00