US Medium Tank M4A1 Sherman (Mid-Production)
Manufacture Product Number : TAS-35-010

Main features include engine grille, clasp, and more reproduced as photo-etched parts, transparent periscope part, turret with click system that is removable and turns 360 degrees, body front differential cover and main gun anti-shield, small anti-shield of main gun coaxial machine gun with convertible parts, heavy machine gun M2, commander, and markings for 3 units total in Tunisia and Italian front.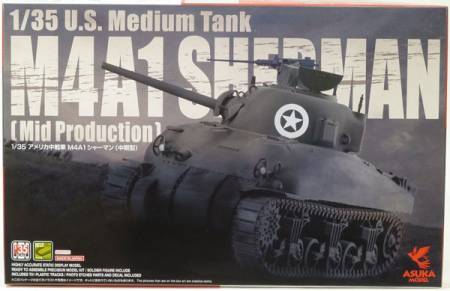 Type
=
Models
Period =
World War 2
Scale =
1/35 Scale
Material =
Plastic
Finish =
Unpainted
Date of Release =
2010-01-01
Status = 1-2 weeks Shipping
This item is not part of our regular inventory. Allow 1-2 weeks for item to arrive at MichToy. Because you are so patient you will automatically receive this item at a 20% discount.
MSRP:
$59.99
$47.99

20% off, you save : $12.00