Britains New Toy Soldiers, 1973 to Present
Manufacture Product Number : SRP-0764330629

In 1973 Britains introduced their New Toy Soldier line of gloss-painted metal figures. It has been highly successful and continues to the present day. This new book focuses on the traditional 54mm figures, illustrating nearly the complete range in nearly 1,100 photographs. Over 3,200 figures are shown with a strong emphasis on military items - British Ceremonial troops, American Civil War, Indian Army and Delhi Durbar, World War I, Knights, Zulu War, Rorke's Drift, Limited Editions, Collectors Club Membership products, Britains Centenary and Millennium issues. The book also features non-military sections on Home Farm and Circus. Special issues by the Britains Company and figures exclusive to Harrod's and Hamley's department stores are all included. Each toy is identified in the text and captions, with a comprehensive index of all gloss-painted figures produced during the period covered. The book contains a valuation guide to each set or individual item. This reference book is the definitive work on the new Britains line. 272 page hardcover book with 1,072 color photos.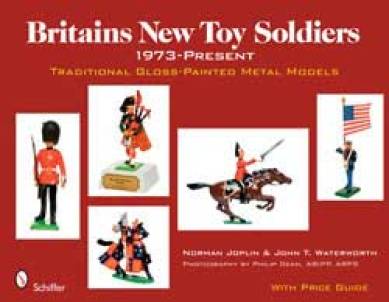 Type
=
Books, Magazines, Catalogs and Videos
Category =
Books-Toy Soldiers
Date of Release =
2010-01-01
Status = 2-3 weeks Shipping
This item is not part of our regular inventory but is available to order. Allow 2-3 weeks for item to arrive at MichToy. Because you are so patient you will automatically receive this item at a 20% discount.
MSRP:
$99.99
79.99
20% off, you save : $20.00