15x Studio v2 Reusable Membranes for Everlasting Wet Palette
Manufacture Product Number : RGG-WPS2-M-15

With this pack, add 15 reusable membranes with amazing hydration performance.
For Studio v2, also compatible with Studio XL v1.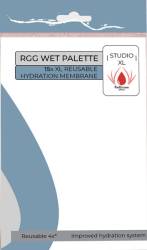 Type
=
Paint, Glues and Finishing Supplies
Category =
Painting Accessories
Status = Upcoming release
You may pre order this product at an extra discount of 10-20% (depending on the vendor). You will not be charged until the item arrives.
MSRP:
$14.99