Painting War Volume 10 The Wild West
Manufacture Product Number : PWN-PW010

Awesome special issue on how to paint Wild West figures. More than 25 different miniatures painted by Jose Bustamante, and a complete painting guide.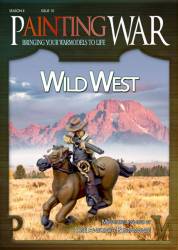 Type
=
Books, Magazines, Catalogs and Videos
Category =
Books-Modeling-Historical Figures
Material =
Softcover Book
Expected Date of Release =
TBA
Status = Upcoming release
You may pre order this product at an extra discount of 10-20% (depending on the vendor). You will not be charged until the item arrives.
MSRP:
$34.99