Painting War Volume 8 American Civil War
Manufacture Product Number : PWN-PW008

Special issue for painting American Civil War armies. This complete guide for American Civil War armies lays out via the step-by-step process...preparing & painting figures including sections on uniforms & equipment, weapons, cavalry, artillery & horses and much more. A special section features 25 different ACW miniatures painted by Ángel Aparicio of Oniria Miniatures each of which is featured on its own individual page showing how to paint that particular figure. A must have for modelers of small scale 15mm, 28mm & 1/72nd scale figures.
READ OUR REVIEW of Painting War Volume 8 American Civil War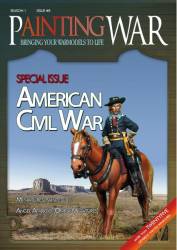 Each issue of PaintingWar focuses on a particular period and army. For instance Issue 1 focuses on WWII German Army and Issue 2 covers the Napoleonic French army. The magazine lays out a step-by-step guide to preparing and painting figures including sections on Uniforms and Equipment, Weapons, Cavalry, Artillery and Horses and much more. The best guides for painting small scale historical figures on th market!

Type
=
Books, Magazines, Catalogs and Videos
Category =
Books-Modeling-Historical Figures
Material =
Softcover Book
Date of Release =
2017-05-31
Status = Out of Stock
Darn it! This item is currently out of stock. You may order this item now and we will notify you when it's available again.
MSRP:
$26.00