At the Alamo DVD
Manufacture Product Number : PSM-DVD007

The Story of The Alamo told in Toys and Popular Media "
Atomics new "At The Alamo" DVD is our latest release (and this one is over 1 hour long) follows several that have featured Alamo toys, this one is all new with a stunning siege sequence starring 600 toy soldiers all in motion using techniques developed for the recent "300 movie. In this movie you'll enjoy:
- a reverent tour of the John Wayne Alamo and the Alamo Shrine;
- discussions on Davy Crockett at the Alamo playsets and TV show
- John Wayne Alamo movie & Hancock Alamo movie (favorably I might
add)
- Marx Davy Crockett Playsets of the 50's & 60's (Disney and "John Wayne" versions),
- Disney TV Davy Fad of the '50s
- Fess Parker interview (arrangements by Wm Chemerka) and a nice clip with legendary Virginia Shahan.
- Alamo dioramas including several famous and not-yet famous ones
- Topping it all off, there's a special interview appearance by Frank Thompson.
In addition there's some wonderful Alamo Dioramas, plus the Ideal Alamo playset of the '50's; glimpses of the BMC playset, CTS playset and some contemporary Alamo playsets and Alamo metal figures.
- Dimitri Tiomkin's music has been licensed and performed by Mike Boldt with a truly outstanding rendition of "The Ballad of the Alamo" and many more selections.
Bonus Chapters:
- "Travis Letter" - performed by Tony Pasqua with music by Mike Boldt, a moving performance set against the Brackettville Alamo movie set --
- and a rare, never before seen Alamo TV spot (with many surprises) (this is a parody done with toy soldiers).
- A SPECIAL CLIP WITH FESS PARKER, REGARDING "DAVY'S MOTTO"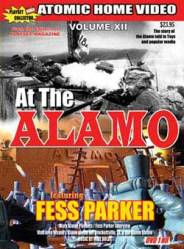 Type
=
Books, Magazines, Catalogs and Videos
Category =
DVD- Toy Soldiers
Date of Release =
2010-01-01
Status = 2-3 weeks Shipping
This item is not part of our regular inventory but is available to order. Allow 2-3 weeks for item to arrive at MichToy. Because you are so patient you will automatically receive this item at a 20% discount.
MSRP:
$30.00
Detect Manufacturer Monthly Specials
Coupon OK on this Manufacturer
Monthly Special S was here !!!
2-3 weeks Shipping
Empty Status
20% competitive overwriting
$24.00
20% off, you save : $6.00