(British) Late War Armoured Division
Manufacture Product Number : PSC-AB15002

Fighting from the beaches of Normandy, through Belgium, Holland and into Germany, this British armoured division army box set will give you 11x Sherman M4A4's, 3x Sherman Fireflies, 4x M5 Halftracks, 34x Infantry figures, including 3x Bren teams, Command, 1x Piat team, 1x 2 inch light mortar team and 1x mixed base sprue.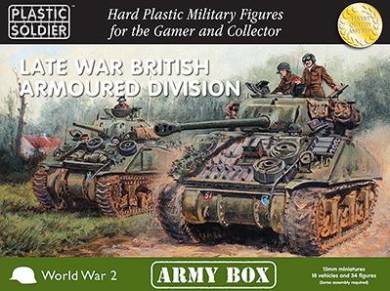 Type
=
Figure Kits, Busts and Accessories
Wargaming
Category =
Wargaming Vehicles and Miniatures
Period =
World War 2
Scale =
15mm (.6 inches or 1/100 Scale)
Material =
Plastic
Finish =
Unpainted
Date of Release =
2016-01-18
Status = 2-3 weeks Shipping
This item is not part of our regular inventory but is available to order. Allow 2-3 weeks for item to arrive at MichToy. Because you are so patient you will automatically receive this item at a 20% discount.
MSRP:
$77.99
$62.39
20% off, you save : $15.60