Perry Miniatures Napoleonic French Dragoons 1812-1815
Manufacture Product Number : PRM-FN130

Contains 13 mounted dragoons, 8 dismounted (this allows for horse holders) , 6 casualties (French and British Infantry), unit bases and painting guide. Torsos for the correct ratio of troopers for the elite company are included, both in helmets and the old bearskins retained by some regiments. The dragoon's traditional role of dismounting to fire use long musketoons was still, on occasion performed, but since 1800 they had evolved into regular cavalry. The box includes mounted and dismounted figures to allow their full range of duties to be represented.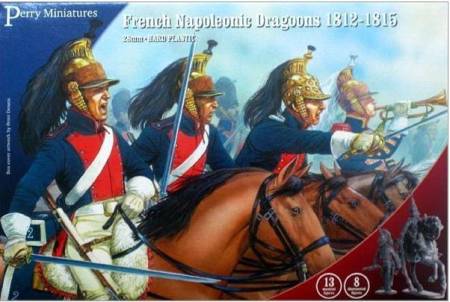 Type
=
Figure Kits, Busts and Accessories
Wargaming
Category =
Wargaming Vehicles and Miniatures
Period =
Napoleonic Wars
Scale =
28mm (1/56 Scale or 1 and 1/8 inches)
Material =
Plastic
Finish =
Unpainted
Date of Release =
2021-07-25
Status = 2-3 weeks Shipping
This item is not part of our regular inventory but is available to order. Allow 2-3 weeks for item to arrive at MichToy. Because you are so patient you will automatically receive this item at a 20% discount.
MSRP:
$37.99
30.39
20% off, you save : $7.60