DIORAMAG VOL.7
Manufacture Product Number : PLA-DIO07

Dioramag: an entire magazine focused on dioramas and scenes. You will find the best articles of the best modellers and writers in the world. Step by step articles, painting techniques, building techniques, showcases, news, reviews and much more. Published quarterly. 96 Pages plus covers.
VIEW OUR PRODUCT SPOTLIGHT ON DIORAMA MAG HERE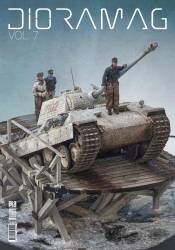 Contents:
3 "ANOTHER BRICK IN THE WALL" by Heiner Sander
6 NEWS
8 Showcase Dioramag: Nicolas Maure
14 "NUTSHELL DIORAMAS" by Matteo Battellino
18 "NATURE REBORN" by Matteo Battellino
20 "THE PRIEST IS COMING" by Jiasheng Wu
32 "CAT HUNTING" by Johan Augustsson
38 "ON THIN ICE. PART 2" by Mirko Brechmann
50 Showcase Dioramag: Lechu Villanueva
56 "BLUE SEAGULL" by Davide Lazzarotto
66 JAPANESE MASTERS by Hideo Yamamoto
74 "MAKING A BIRCH TREE" by Lechu Villanueva
78 "ABANDONED MEDITERRANEAN HOUSE" by Andreas Rousounelis
84 "WE NEVER LEFT" by Brandon Lum
94 "NOSTALGICA" by Steve Palffy

Type
=
Books, Magazines, Catalogs and Videos
Category =
Magazines- Modeling Armor
Material =
Magazine
Expected Date of Release =
TBA
Status = Upcoming release
You may pre order this product at an extra discount of 10-20% (depending on the vendor). You will not be charged until the item arrives.
MSRP:
$23.99