Osprey Weapons: Weapons of the Viking Warrior
Manufacture Product Number : OSP-WP066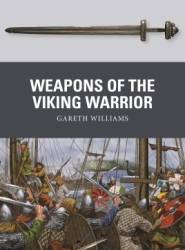 Between the late 8th and late 11th century Viking warriors had a massive impact not just in northern Europe, but across a huge arc from the western Mediterranean round through northern Europe and the Baltic to the Middle East and Central Asia. Their success depended in part on their skills in battle, their unique sense of strategic mobility, and on the quality of their weapons and equipment. Written by an expert on early medieval weaponry, this book examines the weapons of the typical Viking warrior, dispels some of the myths of the popular image, such as double-headed axes, and considers the range of weapons that actually underpinned the Vikings' success including bows and arrows.
Drawing upon contemporary literary and historical accounts from the North Atlantic to the Arab world, surviving examples of weapons and armour, and practical experimentation and reconstructions by modern weapon-smiths and re-enactors, this study casts new light on how Viking weapons were made and used in battle.

Type
=
Books, Magazines, Catalogs and Videos
Category =
Books- Osprey Weapons Series
Period =
Dark Ages (Early Middle Ages 400-1000 A.D.)
Material =
Softcover Book
Date of Release =
2018-12-15
Status = 4+ weeks Shipping
This item is not part of our regular inventory and must be special ordered. Allow 4+ weeks for item to arrive at MichToy.
MSRP:
$22.00
4+ weeks Shipping
Empty Status
Our price
$17.60
20% off, you save : $4.40