Osprey Air Vanguard: Republic F105 Thunderchief
Manufacture Product Number : OSP-AVG02


The Republic F-105 Thunderchief was the fastest and most successful strike fighter of the Cold War. Designed to deliver nuclear weapons at low altitude and then fight its way back to base, by the early 1960s it was the primary weapon in the USAF's tactical strike arsenal. Thunderchief pilots in Europe, the Far East and the USA stood on short-notice alert, ready to take on the formidable defenses of their Communist Bloc targets. The F-105 was, however, to become a legend in a very different conflict. As direct American involvement in Vietnam increased, F-105s were deployed – initially as a deterrent, but ever more as conventional attack fighters against insurgency in Laos and Vietnam. With the start of the bombing campaign against North Vietnam, the Thunderchief became a vital element in attacks against some of the most heavily defended territory in modern history.

Contents
Introduction
Design and Development
Technical Specifications and Variants
Operational History
Conclusion
Bibliography and Further Reading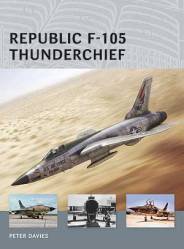 Type
=
Books, Magazines, Catalogs and Videos
Category =
Books- Osprey Air Vanguard Series
Material =
Softcover Book
Date of Release =
2012-09-04
Status = Out of Stock
Darn it! This item is currently out of stock. You may order this item now and we will notify you when it's available again.
MSRP:
$18.99
$15.19

20% off, you save : $3.80