Stargrave: Troopers
Manufacture Product Number : NMF SGVP003

Many military units stuck together after the Last War, with most going into business for themselves as mercenary outfits or independent crews. A few continued to uphold their oaths as peacekeepers, but many more sold out, offering their skills and firepower to the pirate fleets…
This boxed set offers enough parts to build 20 heavily equipped characters for Stargrave, ideal for use in independent crews or as members of the pirate fleets hunting them down. While this kit includes a range of weaponry and a mix of helmeted and bare heads, even more variety can be achieved by mixing in components from other Stargrave boxed sets. The bare heads include Male and Female variants.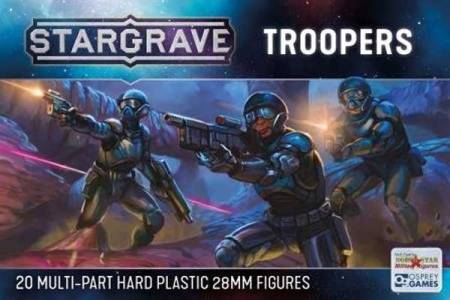 Type
=
Wargaming
Figure Kits, Busts and Accessories
Category =
Wargaming Vehicles and Miniatures
Period =
Space and Sci-Fi
Scale =
28mm (1/56 Scale or 1 and 1/8 inches)
Material =
Plastic
Finish =
Unfinished Plastic Figure Kit
Date of Release =
2021-07-23
Status = New Release - Currently Out of Stock
New Release - Currently Out of Stock Wow! These sold out fast. But fear not as we have more on order. You may order this item now and we will notify you when it's available again. You will receive a 10% discount for this item.
MSRP:
$30.00
$27.0010% off, you save : $3.00