Oathmark: Skeleton Infantry
Manufacture Product Number : NMF OAKP501

The lands of the Marches are littered with the bones of the dead. Through dark magics known to only a few, these bones can be reanimated, and great armies raised from the remains of ancient soldiers, casualties of a thousand battles.
This boxed set offers enough parts of build 30 Skeleton Infantry for your Oathmark armies. These unyielding undead warriors can be armed with bows, spears, or hand weapons, and parts are also included to add banner bearers and officers to their ranks.
28mm sized plastic figures, supplied unassembled and unpainted. Require glue to assemble.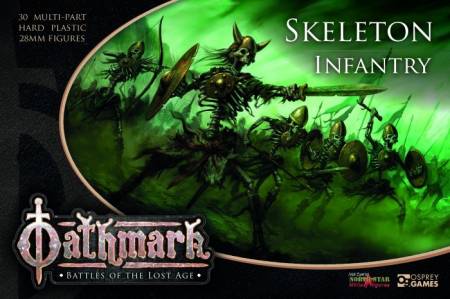 Type
=
Wargaming
Figure Kits, Busts and Accessories
Category =
Wargaming Vehicles and Miniatures
Period =
Fantasy, Fiction, Comics and Legends
Scale =
28mm (1/56 Scale or 1 and 1/8 inches)
Material =
Plastic
Finish =
Unfinished Plastic Figure Kit
Date of Release =
2021-01-21f
Status = New Release - Currently Out of Stock
New Release - Currently Out of Stock Wow! These sold out fast. But fear not as we have more on order. You may order this item now and we will notify you when it's available again. You will receive a 10% discount for this item.
MSRP:
$35.00
$31.5010% off, you save : $3.50