Frostgrave: Soldiers
Manufacture Product Number : NMF FGVP01

A Frostgrave Soldier's role is to accompany his Wizard employer into the frozen city, to fight their opponents, beat off wandering monsters and grab any treasure found.
This box set of hard plastic figures allows you to build 20 different Soldiers to play in the game Frostgrave. To help you design the perfect Wizard's warband, the box set contains 100 weapon/ arm variants, 40 heads and over 30 pieces of equipment. No two Wizard's warbands should ever be the same!
The plastic figures are 28mm sized, supplied unpainted and require assembly with glue. We recommend you use glue designed for plastic to get the best results.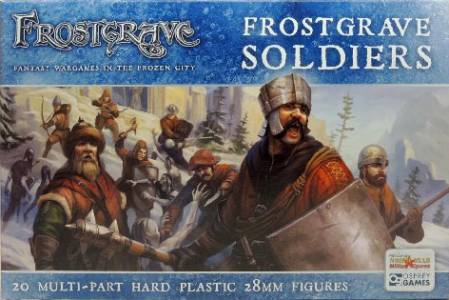 Type
=
Figure Kits, Busts and Accessories
Wargaming
Category =
Wargaming Vehicles and Miniatures
Period =
Fantasy, Fiction, Comics and Legends
Scale =
28mm (1/56 Scale or 1 and 1/8 inches)
Material =
Plastic
Finish =
Unfinished Plastic Figure Kit
Date of Release =
2021-01-21f
Status = Out of Stock
Darn it! This item is currently out of stock. You may order this item now and we will notify you when it's available again.
MSRP:
$30.00