Arabian Civilian in a City
Manufacture Product Number : NIK-ARB11

5 civilians around a wall fountain- decorative wall fountain included
NOTE: These are resin plastic figures, supplied unpainted and some assembly may be required. The picture illustrates how the model should look once completed. Glue and paint are not included in the kit.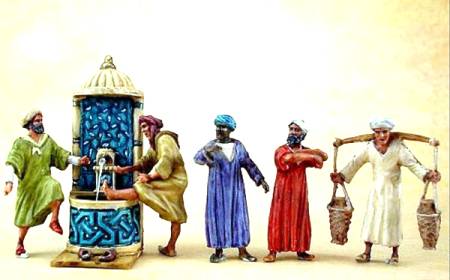 Type
=
Figure Kits, Busts and Accessories
Period =
Good for Various Periods
Scale =
1/72 Scale (22mm or 1 inch)
Material =
Resin Plastic
Finish =
Unfinished Resin Figure Kit
Date of Release =
2019-10-16
Status = Out of Stock
Darn it! This item is currently out of stock. You may order this item now and we will notify you when it's available again.
MSRP:
$19.99