Dastardly and Muttley in Their Flying Machines - Muttley
Manufacture Product Number : MT3-1002

Wacky Racers are about the size of a Funko figure. 3d printed in house these are resin kits from the designs and files created Plakit Toymaker and used by permission.
NOTE TO PURCHASER: This is a resin plastic model kit and requires model building and painting skills. Parts require prep, sanding, fitting and painting. The pictures illustrates how the model should look once completed. Glue and paint are not included in the kit.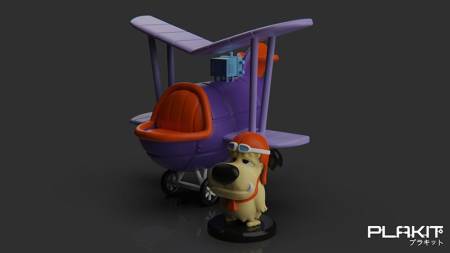 Muttley is Dastardly's bungling canine sidekick. He rarely speaks, usually just cursing to himself indistinctly or an excited "Yeah-yeah-yeah." He has a distinctive rasping laugh which he employs whenever something bad happens to Dick, or whenever Dick is describing his latest "foolproof" plot. Since leaving the Wacky Races, Muttley has learned to fly by spinning his tail like a helicopter rotor. This enables him to save Dastardly from falling (which frequently happens, usually accompanied by a cry from Dastardly of: "MUTTLEY!! DO SOMETHING!!"), although Muttley usually demands a medal for doing so. During Wacky Races, Muttley's popularity had grown, so when Dastardly and Muttley began production, he got his own segment, Magnificent Muttley, in which he daydreams that he is a different hero each week, usually with Dastardly as the villain.

Type
=
Models
Period =
Fantasy, Fiction, Comics and Legends
Scale =
1/43 Scale
Material =
3D Printed-Resin
Finish =
Unfinished Model Kit
Date of Release =
2022-08-20
Status = Available
This item is Normally Stocked but may take up to two weeks for delivery if not in stock. We will notify you of any delays
MSRP:
$25.00
25.00