Mr. Black PAINTING GUIDE 2
Manufacture Product Number : MMH-SMH-PG02

64 Pages, Matt Laminated Cover, 240 photos (200 SBS), 200 Painting Colour Chips, 18 pages of tables for the equivalents for 10 acrylic paint ranges
READ OUR IN-DEPTH PRODUCT SPOTLIGHT ON OUR BLOG NEWS FROM THE FRONT HERE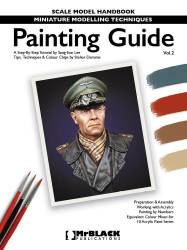 This is the second Painting Guide in theseries about "Miniature Modelling Techniques" where our aim is to bring a lot of painting and general modelling techniques closer to all modellers, either newcomers or experienced, offering an innovative and essential tool for all. Sang-Eon Lee used Vallejo Model Color acrylics for painting Johannes Erwin Eugen Rommel "The Desert Fox" bust (LM-BS002) from Life Miniatures. Inside you'll discover how he painted a realistic looking head with acrylics using the artist's Planar Face Painting System… Or "painting by numbers" if that's a more familiar term to you, and a realistic WWII Uniform in exquisite detail. The innovation here is that every possible effort has been made to include the paints of many of the companies producing acrylic colours especially for brush painting miniatures. Herein we have the exact matches of equivalent (or similar) colours, or the Editor's suggestions for approximate colours, hues and mixes, to achieve the same excellent results as the Artist.

We have used and tested the 10 series of paints of participating companies AK-Interactive (3rd Generation and Old Figure Series), Andrea Miniatures, Vallejo Acrylics (Model Color and Panzer Aces), Scale75 (Scalecolor, Warfront and Artist), Jo Sonja, Kimera Kolors and Lifecolor.

Type
=
Books, Magazines, Catalogs and Videos
Category =
Books-Modeling-Historical Figures
Period =
World War 2
Material =
Softcover Book
Date of Release =
2021-12-13
Status = New Release - Currently Out of Stock
New Release - Currently Out of Stock Wow! These sold out fast. But fear not as we have more on order. You may order this item now and we will notify you when it's available again. You will receive a 10% discount for this item.
MSRP:
$39.99
$35.9910% off, you save : $4.00