British A12 Matilda II - World War Toons Meng Model Kids Caricature Series
Manufacture Product Number : MGK-K-WWT-014

The British infantry tanks were used to support infantrymen in operations. They were heavily armored but with limited maneuverability. The Matilda II was the main infantry tank used by the British at the start of WWII. The German 88 mm anti-aircraft gun was the only weapon that could penetrate its armor. This tank also saw service with the Soviet army.
The WWT-014 British Infantry Tank A12 Matilda II is the latest World War Toons product presented by MENG and Studio Roqovan. This kit continues the features of this series, like cute shape and snap-fit assembly. The Matilda II tank had a lovely shape and this cartoonized model is cuter.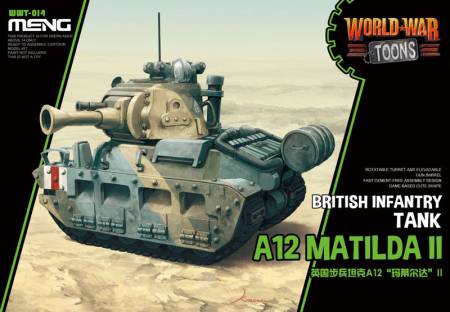 Type
=
Models
Period =
World War 2
Scale =
1/43 Scale
Material =
Plastic
Finish =
Unfinished Model Kit
Date of Release =
2019-09-14
Status = Out of Stock
Darn it! This item is currently out of stock. You may order this item now and we will notify you when it's available again.
MSRP:
$19.99
$15.99

20% off, you save : $4.00