Paul von Hindenburg, circa 1916-1917
Manufacture Product Number : LMB-015

5 parts in grey resin. Sculpted and Painted by Sang-Eon Lee.
This is a resin kit and will need to be assembled and painted. The picture illustrates how the model should look once completed. Glue and paint are not included in the kit.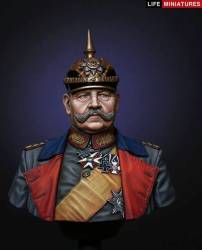 Paul von Beneckendorff und von Hindenburg (1847-1934) was born in Poznan on 2 October 1847, the eldest of three sons, and was educated at cadet schools in Wahlstatt and Berlin. He was a Prussian-German field marshal, statesman, and politician, and served as the second President of Germany (1925-34).

Type
=
Figure Kits, Busts and Accessories
Period =
World War 1
Scale =
1/9 Scale (200mm (1/9 Scale))
Material =
Resin Plastic
Finish =
Unfinished Resin Figure Kit
Date of Release =
2015-07-10a
Status = 2-3 weeks Shipping
This item is not part of our regular inventory but is available to order. Allow 2-3 weeks for item to arrive at MichToy. Because you are so patient you will automatically receive this item at a 20% discount.
MSRP:
$59.99
$47.99
20% off, you save : $12.00