Lifecolor Painting Guide Vol.2 - Painting & Weathering Modelling Techniques
Manufacture Product Number : LFC-922402

A4 FORMAT, 36 PAGES, STAPLES, GLOSS LAMINATION
This is the second painting guide produced in close collaboration with Lifecolor Acrylic paints by Astromodel S.A.S. from Italy. Alessandro Balbo and Rolando Lezzi, owners of the Astromodel S.A.S. distribution company and producers of Lifecolor acrylic paints and products, offered us the opportunity to produce a unique series of books that include not only painting but general modelling techniques covering a wide variety of scale models.
These books offer essential information on painting, weathering and finishing scale models to the highest standard while getting the best from Lifecolor paints and products. Each theme will have a full list of the Lifecolor colour paint chips that were used for the painting and weathering processes.
Available information on historical facts and real equipment will be added in most cases, which will enrich the content of each book and impart some interesting information to readers. We have six articles in this issue, plus some extra details offering a lot more information.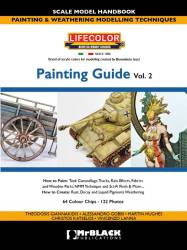 CONTENTS
4 Genesis
Open your Mind, Pick your Favourite Colour Tones and Paint
8 Genesis Bust
How to Paint a Large-Scale Female Fantasy Bust Using an NMM Technique With Lifecolor NMM Set Gold CS53
12 German Pz.Kpfw KV-1B 756(r)
How to Paint a German Camouflage Pattern on a Captured Russian KV-1 Tank In 10 Easy-to-Follow Steps
18 'Sandbagging' Tamiya's Carro Armato M13/40
Painting Sandbags Step-by-Step for Dioramas, Vignettes
& Extra Protection on Armoured Vehicles
22 'Rat-look' Volkswagen Beetle
Civilian Vehicles: Creating Rust, Mould and Decay Using Lifecolor Paints (Part 2)
30 MiniArt Farm Cart
Painting a Realistic Wooden Farm Cart with Lifecolor Acrylics

Type
=
Books, Magazines, Catalogs and Videos
Category =
Books-Modeling-How To
Material =
Softcover Book
Date of Release =
2022-04-19
Status = New Release
Normally Stocked, may take up to two weeks for delivery if out of stock. We will notify you of any delays
MSRP:
$19.99