Stormtrooper, Saxon Divisional Assault Company 1917
Manufacture Product Number : JSM-24LS

The figure depicts a Stormtrooper taken from a group photo of 8 soldiers standing around an NCO/officer. The men are all armed with trench knifes and P08 Luger pistols (apart from one soldier who carries the Mauser C96).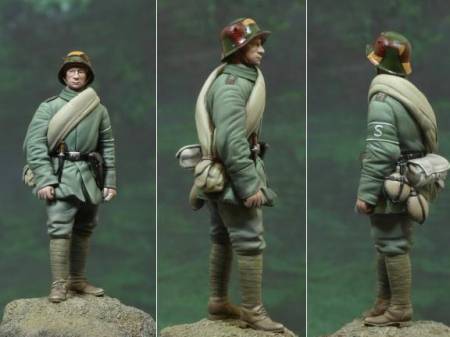 Type
=
Figure Kits, Busts and Accessories
Period =
World War 1
Scale =
1/32 Scale (54mm or 2 1/4 inches)
Material =
Resin Plastic
Finish =
Unpainted
Date of Release =
2010-02-16b
Status = 2-3 weeks Shipping
This item is not part of our regular inventory but is available to order. Allow 2-3 weeks for item to arrive at MichToy. Because you are so patient you will automatically receive this item at a 20% discount.
MSRP:
$26.99
$21.59
20% off, you save : $5.40