German 08/15 MG Gunner, Western Front, Winter 1917-18
Manufacture Product Number : JSM-21MXG

Gunner figure and Maxim MG 08/15, complete with all accessories. Extra stick and egg grenades, extra ammunition boxes with loose/individual rounds and signal/flare pistol with individual rounds. The plaster base consists of a wooden revetment wall, firing step, duckboard, and 2 individual sandbags. MG parts include bipod, rubber steam hose, spare barrel/cleaning rod container, water canister, 2 drum magazines (one with separate rounds insert), magazine bracket, ammo belt, and 3 closed and 1 open ammo box.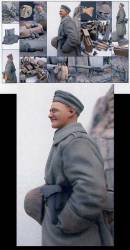 Type
=
Figure Kits, Busts and Accessories
Period =
World War 1
Scale =
120mm (1/16 Scale)
Material =
Resin Plastic
Finish =
Unpainted
Date of Release =
2010-01-01
Status = 2-3 weeks Shipping
This item is not part of our regular inventory but is available to order. Allow 2-3 weeks for item to arrive at MichToy. Because you are so patient you will automatically receive this item at a 20% discount.
MSRP:
$109.99
$87.99
20% off, you save : $22.00