German Stormtrooper, Assault Battalion, Western Front 1918
Manufacture Product Number : JSM-08ST

Standing figure with both arms at his side. A base is supplied depicting a very muddy piece of ground with bicycle tracks and footprints.Uniform: Field service dress M1915 Feldbluse, trousers M1914, puttees, and ankle boots M1901.Equipment: Steel helmet M1916, belt M1895 blackened, grenade bags (sand bags), gas mask M1917, haversack M1887, water bottle M1907, army spade M1822, and pickaxe with holding strap and part of rifle sling.Weapons: Mauser Carbine 98AZ, bayonet 84/98.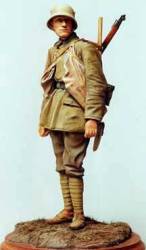 Type
=
Figure Kits, Busts and Accessories
Period =
World War 1
Scale =
120mm (1/16 Scale)
Material =
Resin Plastic
Finish =
Unpainted
Date of Release =
2010-01-01
Status = 2-3 weeks Shipping
This item is not part of our regular inventory but is available to order. Allow 2-3 weeks for item to arrive at MichToy. Because you are so patient you will automatically receive this item at a 20% discount.
MSRP:
$62.99
$50.39
20% off, you save : $12.60