Photo Etched Sanding Plate - Thin
Manufacture Product Number : JPN-TST-00201

These files are made out of photo etched material. Useful for sanding in narrow spaces. Each plate is 0.2mm thick. Note: The 8th-14th parts are not processed files. These parts are used for sanding with sandpaper or used as support for the 1st-7th files e.g. by laying the 8th file under the 1st one.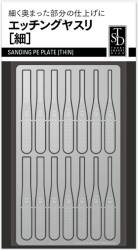 Type
=
Tools and Supplies
Category =
Sanding and Filing Products
Material =
Photo-etched
Date of Release =
2019-03-28
Status = Out of Stock
Darn it! This item is currently out of stock. You may order this item now and we will notify you when it's available again.
MSRP:
$16.99