Chevrolet C15A Water Truck
Manufacture Product Number : IBG-72012

Chevrolet C15A No. 13 Cab Watertank. Chevy-built Canadian Military Pattern 15 hundredweight (3/4 ton) 4x4 truck with type 13 cab incorporating downward angled windshield - water tanker configuration. Kit features detailed chassis with full engine/powertrain and suspension. Also includes cab with interior, acetate windshield panes, and detailed water tank, pump housing, and supports. Decals and painting reference for a single vehicle of the 2nd Canadian Armoured Brigade, Normandy 1944.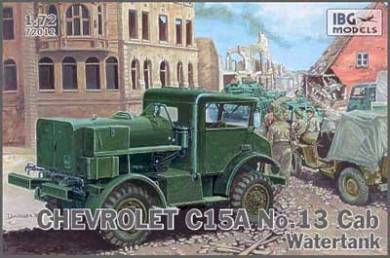 Type
=
Models
Period =
World War 2
Scale =
1/72 Scale (22mm or 1 inch)
Material =
Plastic
Finish =
Unpainted
Date of Release =
2010-01-01
Status = 1-2 weeks Shipping
This item is not part of our regular inventory. Allow 1-2 weeks for item to arrive at MichToy. Because you are so patient you will automatically receive this item at a 20% discount.
MSRP:
$16.99
$15.29
10% off, you save : $1.70