Bedford QL 3 Ton 4x4 Fire Tender
Manufacture Product Number : IBG-72005

World War II era British-built general purpose cargo truck, fire fighting configuration. Kit features detailed frame, suspension, drivetrain with engine. Also includes cab with interior and separately molded doors, bed module with pump, hose section, and equipment boxes, bed awning frame with ladders, hose reel, cab roof bell, and acetate for window glazings. Also includes decals and painting reference for 104th Fire Fighting Company, Army Fire Service, Normandy 1944.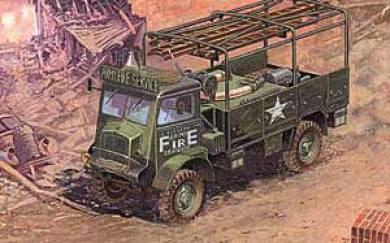 Type
=
Models
Period =
World War 2
Scale =
1/72 Scale (22mm or 1 inch)
Material =
Plastic
Finish =
Unpainted
Date of Release =
2010-01-01
Status = 1-2 weeks Shipping
This item is not part of our regular inventory. Allow 1-2 weeks for item to arrive at MichToy. Because you are so patient you will automatically receive this item at a 20% discount.
MSRP:
$16.99
$15.29
10% off, you save : $1.70