Bedford QLT 4x4 Troop Carrier
Manufacture Product Number : IBG-72003

World War II era British-built general purpose cargo truck, troop transport configuration. Kit features detailed frame, suspension, drivetrain with engine. Also includes cab with interior and separately molded doors, bed side/central benches, canvas texture awning, and acetate for window glazings. Also includes decals and painting reference for 3 vehicles - 5th Battalion Coldstream Guards, Guards Armoured Division, Holland 1944- Podhalanian Rifle Battalion, 1st Polish Armored Division, Summer 1944- and 8th Rifle Battalion, 1st Polish Armored Division, Germany 1945.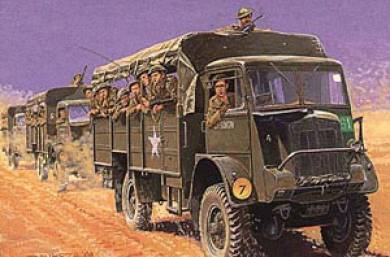 Type
=
Models
Period =
World War 2
Scale =
1/72 Scale (22mm or 1 inch)
Material =
Plastic
Finish =
Unpainted
Date of Release =
2010-01-01
Status = 1-2 weeks Shipping
This item is not part of our regular inventory. Allow 1-2 weeks for item to arrive at MichToy. Because you are so patient you will automatically receive this item at a 20% discount.
MSRP:
$25.99
$23.39
10% off, you save : $2.60