Einheitsdiesel with Breda 37mm AA Gun
Manufacture Product Number : IBG-35005

The Einheitsdiesel (Uniform Diesel), as the vehicle was generally called, was build from 1937 to 1940 by MAN (ca.1800), Henschel (ca.1500), Magirus (ca.2500), Bussing-NAG (ca.3200), Faun (ca.700), Daimler-Benz (ca.550) and probably Vomag. The vehicle was technically advanced, robust and reliable. Because of its complex running-gear design (six-wheel drive and individual suspension of all wheels), the Uniform Diesel had remarkable off-road capability, and was thus very popular among the troops. One disadvantage was the low load limit of 2375 kg, compared to a net weight of 4925 kg. Production was halted in 1940, as less expensive two-axle trucks with comparable performance figures existed by then. Einheitsdiesel was widely used by Wehrmacht and Luftwaffe on almost all theatres of war as standart truck, radio van, telephone exchange van, field kitchen, service van and lot of other versions.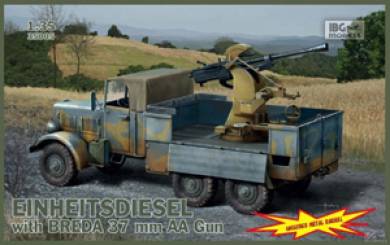 Type
=
Models
Period =
World War 2
Scale =
1/35 Scale
Material =
Plastic
Finish =
Unfinished Model Kit
Date of Release =
2014-04-17
Status = 1-2 weeks Shipping
This item is not part of our regular inventory. Allow 1-2 weeks for item to arrive at MichToy. Because you are so patient you will automatically receive this item at a 20% discount.
MSRP:
$79.99
$71.99
10% off, you save : $8.00