French Multi-Family Dwelling
Manufacture Product Number : HAN-P2002

Dimensions: 9 1/2" Wide X 15 1/4" Tall X 4 1/4" Deep
This building is also patterned to be used with all figures and vehicles scaling between 54mm to 60mm (or 1/34th to 1/30th), and is hand painted and finished exactly as pictured. These buildings are really facades at 4 1/4" in depth.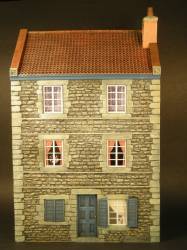 All of the windows feature 'glass' and 'curtain' details. Note the brass door knobs on the doors. These buildings are designed to be used alone or together (The 1/32nd scale truck, Village Road Section, and Single Family Dwelling are placed for reference.)

Type
=
Scenic and Diorama Materials
Category =
Scenic and Diorama Products- Pre-Finished
Scale =
1/32 Scale (54mm or 2 1/4 inches)
Material =
Polyfoam
Date of Release =
2010-07-12z
Status = Out of Stock
Darn it! This item is currently out of stock. You may order this item now and we will notify you when it's available again.
MSRP:
$160.00